PRE Technologies: Best Advanced Simulation Engineering Consultancy 2015
Thursday, December 17, 2015
Corporate Vision has recognised PRE Technologies as the Best Advanced Simulation Engineering Consultancy of 2015.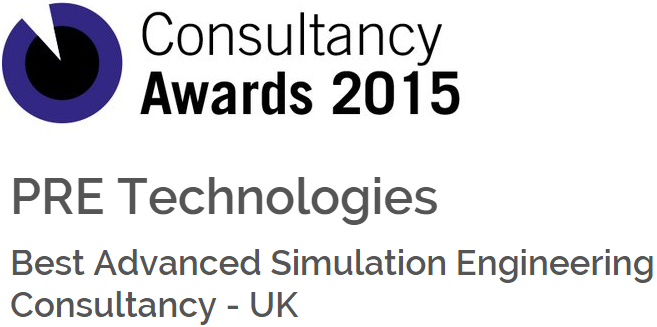 After being nominated by one of our clients, a thorough research by Corporate Vision took place gathering information about our processes, feedback from clients and relevant project topics and results. It was a lengthy process that resulted in a very complete application. Towards the end of the year we were informed that PRE Technologies would receive the award and thus was considered the best simulation consultancy of the year.
Full award text:
It gives me great pleasure to inform you that you have been named a winner in Corporate Vision's 2015 Consultancy Awards!
Best Advanced Simulation Engineering Consultancy - UK
The 2015 Consultancy Awards aim to highlight and give recognition to those consultants who really deserve it. The awards are based 100% on merit and are a reflection of those in the global consultancy industry currently making a massive impact in firms and industries worldwide.
For more information please contact:
Luis Segui: luis.segui@pretechnologies.com