Pharma and drug delivery processes
Computational models and simulations are an important tool for the analysis and optimisation of various pharmaceutical unit operations, process equipment, drug delivery devices and quality control equipment. Analysis is included in most manufacturer's process as an integral part of the Quality by Design (QbD) procedure for the design of new systems. It can help shorten product development cycles, optimise processes to improve repeatability, efficiency, and productivity, identify problems as they arise during operation and reduce costs.
Historically manufacturing companies have relied on 1D chemical models, experience and the regulator's recommendations for the dimensioning and design of both the process and the required equipment. However, the current market demands the pharma-manufacturing leaders to manage smaller batches, shorter runs, greater complexity, more volatile demand, and ever-increasing quality expectations.
Computational simulation techniques such as Finite Element Analysis (FEA) and Computational Fluid Dynamics (CFD) are gaining more relevance as part of the design process for most pharma companies. PRE Technologies have developed a set of models and procedures for the accurate analysis of most unit operations included in current drug production systems. Whether for a new machine design, the refurbishment or retrofitting of a used one or for a forensics analysis for a failing process, PRE Technologies will help your design team find the solution.
Production
CFD and FEA tools are widely used for supplementing test data needed for regulatory submission and approval as well as for the design of new processes and equipment in the pharmaceuticals manufacture. The insight gained from using CFD, when validated with experimental data, provides a strong technical foundation for the design decision making. The capabilities of computational fluid dynamics as a tool for trouble-shooting and Quality by Design have been demonstrated in numerous applications, from clean room design to cell culture growth modelling. The applications involve, for example, multiple physics, fluid dynamics, mass transfer, heat transfer and rheology.
Pharmaceutical products are manufactured in many forms; as tablets, capsules, liquids (solutions, emulsions, suspensions, gels or injectables), ointments, creams and aerosols. Each of these formats requires unique manufacturing techniques as well as bespoke complex machinery. The list of equipment required is as broad as the manufacturing options: centrifuges and separators, chillers, heat pumps, compressors, distillation and fermentation devices, dryers, mixers, granulators and membrane filters are just a few examples. Typical preparation steps include milling, granulation, drying, tablet pressing, printing, coating and filling. Each of these steps can be efficiently analysed and optimised using complex fluid dynamics simulations in combination with chemical kinetics models.
An excellent example of unit operation that can benefit from simulation is the fluid bed processing. Fluid bed processors are used in the pharma industry for various unit operations, such as mixing, drying, granulation and coating. Many parameters can affect the performance for the different unit operations carried out, including the apparatus design, position of injection nozzles, process parameters (flow rate, temperatures, humidity) and formulation of the ingredients. CFD flow calculations with particle tracking models are very useful to predict the granule-granule and droplet-granule collision rates of fluidised beds aiding the dimensioning and optimisation of these devices for the expected operational conditions.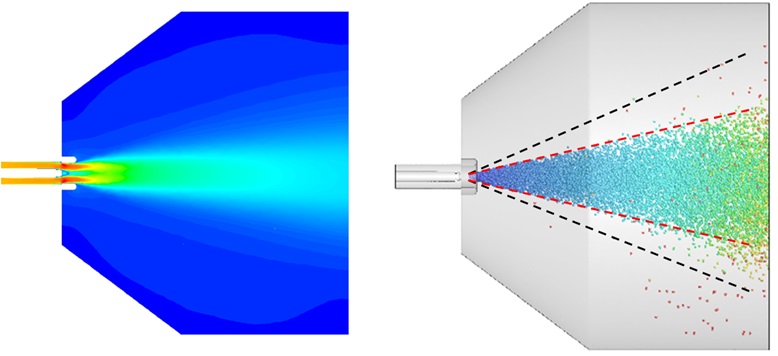 PRE Technologies' modelling capabilities for the pharmaceutical industry are broad, including turbulent flow in bioreactors, multiphase flow, heat and mass transfer, phase change, chemical reactions, porous media flow and granular particle dynamics. In addition to the upstream manufacturing unit operations, fluid mechanics is also widely used in the dimensioning and optimisation of pollution reduction processes, to control air emissions, liquid effluents and solid wastes. Scrubbers, adsorption devices, filters and solid combustors can be dimensioned and optimised using advanced CFD and FEA techniques.
Pre-clinical and clinical production
Before a drug can be manufactured at any scale, formulation development scientists must evaluate a compound for uniformity, stability and many other factors. After the evaluation phase, a solution must be developed to deliver the drug in its required form such as solid, semi-solid, immediate or controlled release, tablet, capsule, and many other variations.
FDA, MHRA and EMA evaluation and approval process can be lengthy and costly. Thus, initial drug discovery and development is very expensive. Of all compounds investigated for use in humans only a small fraction are eventually approved. This approval comes only after heavy investment in pre-clinical development and clinical trials, as well as a commitment to ongoing safety monitoring. Computational analysis can aid in reducing the risk of failure prior to this stage as well as cost effective measures to successfully transition to full scale production.
This part of the manufacturing process is characterised for bespoke, low quantity batches that are often repeated and varied. Flexibility and fast adaption is therefore paramount in the manufacturing process. PRE Technologies has helped pharmaceutical companies in the optimisation of these systems by accurately modelling part or the entirety of the manufacturing process. Designers have been able to identify failing or poor-performing unit operations within these systems and propose design alternatives.
Drug delivery & medical devices
In addition to production, multidisciplinary computational techniques are a useful tool for the simulation and optimisation of drug delivery methods and medical devices. Analyses can range from the evaluation of effective gas flow through respirators to the cost effective design of plastic devices for mass production.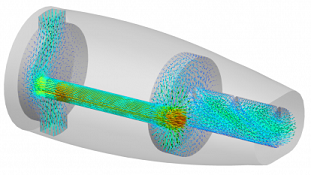 Whatever the scale, from small multi-compound syringes to large MRI scanners, the use of mechanical studies in combination with thermal and fluid dynamics analyses is a powerful tool to reduce development costs, material use and optimise processes performance.
Standards
Pharmaceutical products manufacturing is one of the most regulated and controlled sectors. National and supranational entities issue and enforce guidelines and standards that apply to the design, engineering and manufacture of both manufacturing equipment and pharmaceutical products.
Regulatory entities (FDA, MHRA or MDA) ensure the quality of drug products by carefully monitoring drug manufacturers' compliance with its Current Good Manufacturing Practice (CGMP) regulations. The CGMP regulations allow each manufacturer to decide individually how to best implement the necessary controls by using scientifically sound design, processing methods, and testing procedures. The flexibility in these regulations allows companies to use modern technologies and innovative approaches to achieve higher quality through continual improvement.
Many companies make use of Computational Fluid Dynamics (CFD) and Finite Element Analysis (FEA) as a key part of the CGMP internal assessments. PRE Technologies offers the modelling and optimisation of the different manufacturing steps in order to ensure a safe, reliable, repeatable and consistent pharmaceutical product manufacturing, compliant with CGMP.
For more information on other services for pharmaceutical systems, please contact us here.
Our services for this sector
Pharmaceuticals production
Heating and cooling equipment optimisation: Heat pumps, chillers and H.E.
FEA Stress and fatigue calculations for high pressure equipment
Clean room HVAC modelling: CFD analysis
Bioreactors performance assessment: Cell culture growth modelling
Fluid dynamics modelling for centrifuges and separators
Fluid bed processors analysis: Nozzle and chamber CFD optimisation
Phase change CFD modelling: Drying and distillation
Reactors analysis: Chemical kinetics models and thermal analysis
Medical equipment
Thermal management simulations for medical equipment
Stress and fatigue assessment for cyclically loaded equipment
Electromagnetic simulation for testing and scanning equipment
Multi-component equipment stress analysis
Drug delivery
Mass production product optimisation studies: Material use, moulding and performance assessment
Single and multiple compound syringe: pre-mixing and delivery CFD models
Respirators optimisation: Spray flow modelling