Stationary engine optimisation for Ultramo Ltd.
Tuesday, April 8, 2014
PRE Technologies is supporting Ultramo in their challenge of designing a new ultra-high efficiency stationary engine aiming to reduce cycle losses to 40%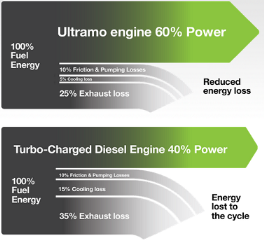 Ultramo has requested PRE Technologies to conduct a series of 1D performance simulations in order to predict the best thermal insulation configuration for the different cylinder/piston surfaces. Additionally it is expected to enhance this thermal study by using FEA analysis in order to capture the influence in the performance of all 3D features of the geometry.
About Ultramo: Ultramo engines are developing a new high efficiency engine that will cut the worldwide fleet fuel costs by one third. They are developing a technology that will meet the challenge of the transition from a fossil fuel based economy to a renewably powered world.
PRE Technologies possess vast experience on thermal insulation optimisation for a number of different industrial applications. Complex convection/radiation models using CFD/FEA techniques have been developed by PRE's engineers with great success for our customers.
For further information on Ultramo see: www.ultramo-engines.com
For inquiries regarding the collaboration please contact:
Sales director, Luis Segui: luis.segui@pretechnologies.com