PRE Technologies partners with Inspiralia for research collaboration
Wednesday, December 18, 2013
Spanish research institution Inspiralia SL and PRE Technologies sign a framework contract for collaboration on European funded research projects in the field of simulation.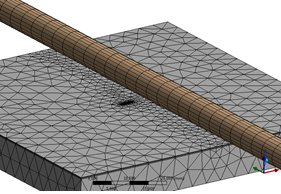 This collaboration kicks off with the support in the form of consultancy on their challenging Trainwheels project. The objective is to optimise train wheel's crack detection by using induction local heating together with thermography detection.
Eddy current thermography is a new non-destructive test technique for crack testing of electro-conductive materials. It is a combination of two existing non-destructive testing methods, the depth sensitive eddy current testing and the fast and contact-free thermography. Especially for components of complex geometry this is valid alternative which may overcome the increased expense for inspection set-up.
Inspiralia has requested PRE Technologies to conduct a FEA electromagnetic/thermal simulation for the induction heating of a train wheel. The objective is to determine the geometrical and electrical parameters that optimise the crack detection at an industrial level.
Inspiralia is a unique private initiative involved in Research, Development and Innovation services to companies. It offers its clients a complete cradle to grave service from product or process conceptual design to the delivery of market-oriented technology. It provides technical support to industrial companies, offering them R&D services and strategies for production improvement, increasing the competitiveness of their product offering.
PRE Technologies possess vast experience on industrial process applications involving crack detection as well as electric and electromagnetic inductive heating applications.
For further information on Inspiralia see: www.inspiralia.com
For inquiries regarding the collaboration please contact:
Sales director, Luis Segui: luis.segui@pretechnologies.com